For your next vacation, don't hesitate! Discover our tree climbing courses located only 25 minutes from the city of Les Sables d'Olonnea major sailing and yachting destination and the starting point of the mythical Vendée Globe ! Located on the Vendée coastline, the seaside resort is famous for its fine sandy beach, its picturesque landscapes: dunes, marshes, Olonne forest, its privileged sunshine and of course its accrobranche courses near Les Sables d'Olonne.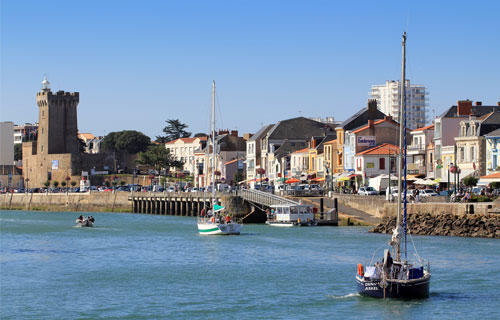 The Côte de Lumière, which covers more than 100 km², offers you an exceptional setting for your next vacation.
By bike, on foot, on horseback or on rollerblades, take advantage of the coastal paths of the Vendée to make the most of the view of the Atlantic Ocean. Enjoy the preserved nature of the coastline by following the wild coast of the Cayola Bay and join the town of Moutiers Les Mauxfaits to meet us at O'Fun Park for accrobranche near Les Sables d'Olonne.
Many activities are proposed near the famous seaside resort such as the Zoo of Sables d'Olonne, the district of the Penotte Island or the castle of Talmont Saint Hilaire and especially the biggest leisure park of Vendée which proposes more than 20 courses of accrobranche close to Sables d'Olonne, for a day in family or between friends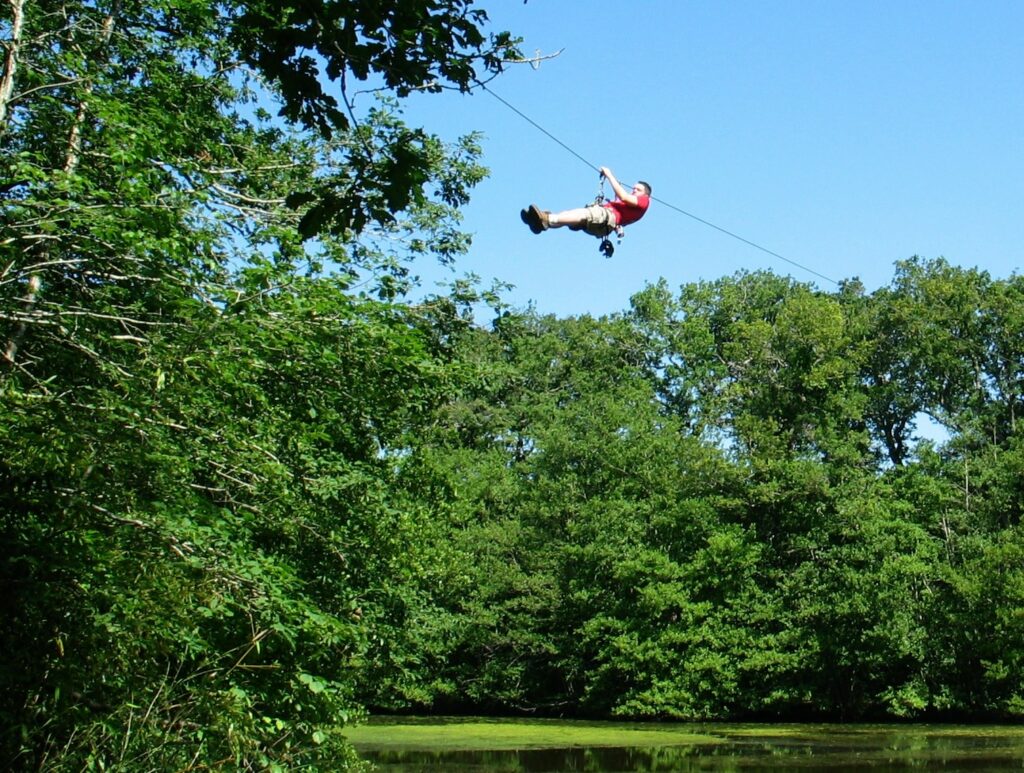 With 20 years of experience in the leisure industry. O'Fun Park (formerly Indian Forest) was the first park in the Vendée to offer tree climbing near Les Sables d'Olonne, first in Jard sur Mer in 2002, then in Moutiers les Mauxfaits since 2003.
Since 2020, O'Fun Park has been offering courses adapted to the youngest with the inauguration of 4 courses specially adapted for the youngest to enjoy a tree climbing session near Les Sables d'Olonne for a day or an afternoon with the family. Access to the park is free for visitors and a preferential rate is offered to parents who wish to accompany their children in the trees.
Also discover O'Gliss Park to extend the fun in our life-size water park. Only 3 kilometers from O'Fun Park, O'GLiss PArk welcomes you in its green and exotic setting, with its 12 slides, its lagoon, its waterfall and its huge wave pool, it's the ideal place to extend your stay after a visit to O'Fun Park and its accrobranche courses near Les Sables d'Olonne
Come and enjoy the benefits of the coastline in the Vendée at Les Sables d'Olonne!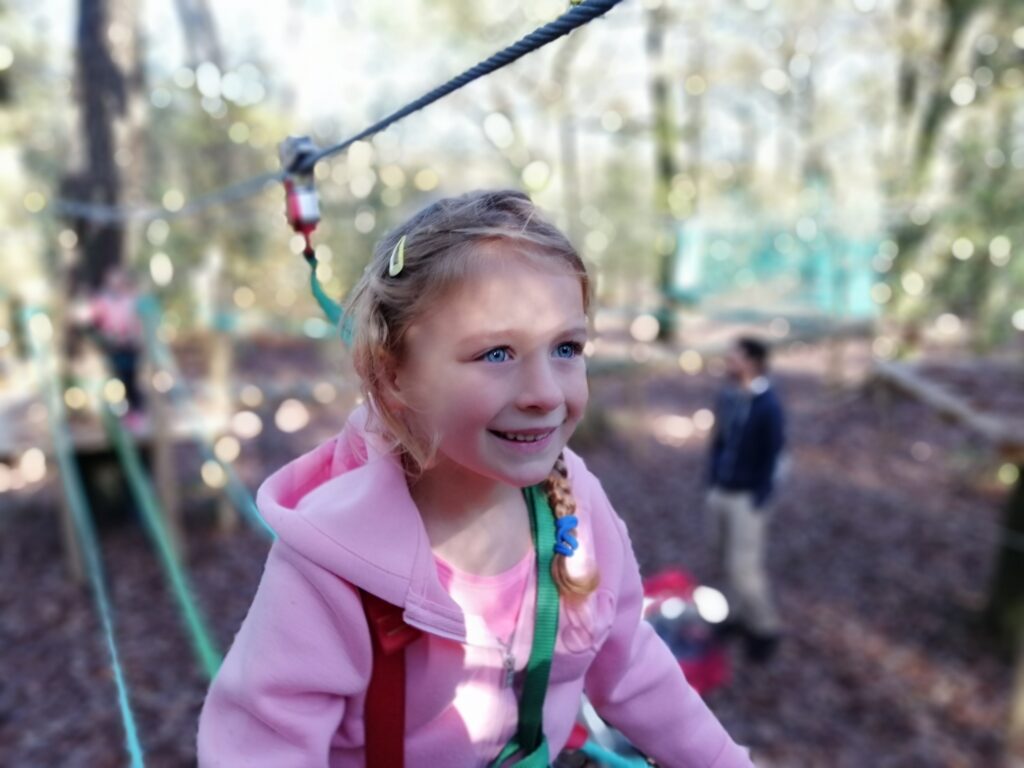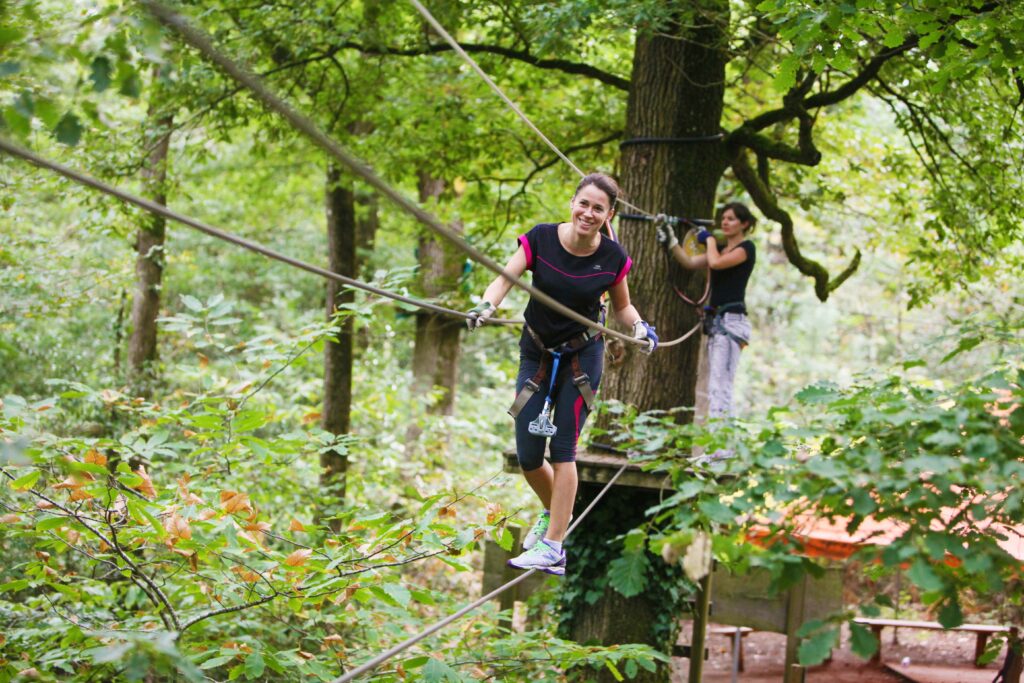 Many activities are proposed near the famous seaside resort such as the Zoo of Sables d'Olonne, the district of the Penotte Island or the castle of Talmont Saint Hilaire and especially the biggest leisure park of Vendée which proposes more than 20 courses of accrobranche close to Sables d'Olonne, for a day in family or between friends